Ergobaby OMNI 360 Baby Carrier – Mesh
Our all-in-one, newborn ready Omni 360 Cool Air Mesh Baby Carrier has all the carry positions plus ultimate ventilation to keep you both cooler. Omni 360 grows with baby from week 1 to 20 kg and offers a perfect fit for all parents.
Breathable, lightweight all-mesh carrier
Ergonomic, forward facing option
Adjustable from newborn to toddler
Lumbar support for extra back comfort
Why choose the front facing outward position ? Is it really ergonomic? Read more
Why choose a Newborn Carrier? Read more
Free shipping from a minimum order of 55 €
Ergobaby steht voll und ganz zu seinen Produkten, so dass Sie Ihren kleinen Schatz in vollem Vertrauen tragen können. Sollte Ihr Produkt einen Material- oder Herstellungsfehler aufweisen, tauscht Ergobaby dieses kostenlos um oder sendet ein Ersatzteil. Das ist das ErgoPromise Garantieversprechen.
Babytrage für alle Positionen
Alle Trageoptionen, die Sie benötigen, wenn Ihr Baby wächst
Fronttrageweise – Bauchtrageweise
~0+ Monate
Fronttrageweise – in Blickrichtung
~5+ Monate
Seitentrageweise
~6+ Monate
Rückentrageweise
~6+ Monate
Perfekter, kühler Tragekomfort.
Für Neugeborene geeignet
Lordosenstütze & über Kreuz tragbare Schultergurte
Atmungsaktives Mesh-Gewebe
Kopfstütze für Sichtschutz (LSF 50+)
Ergonomisch in allen Positionen (M-Position)
Abnehmbarer Beutel
Die 360-Babytrage wurde vom International Hip Dysplasia Institute als "gesund für die Hüfte" ausgezeichnet.
Carry your precious cargo with confidence. From materials to workmanship we stand by our products. If you find a manufacturing or material defect, we will replace your carrier or part at no charge. That's the ErgoPromise.
All Position Baby Carrier
All the Carrying Options You Need As Your Baby Grows
Front Carry - Facing Parent
~0+ Months
Front Carry - Facing Out
~5+ Months
Hip Carry
~6+ Months
Back Carry
~6+ Months
Perfect Fit - Coolness On Top
Newborn Ready
Lumbar Support & Crossable Straps
Breathable Mesh
Baby Privacy Hood (UPF 50+)
Ergonomic in All Positions (M-Position)
Detachable Pouch
The Omni 360 Baby Carrier Cool Air Mesh has been acknowledged as a "hip healthy" product by the International Hip Dysplasia Institute.
Awards / Certificates
International Hip Dysplasia Institute "Healthy for the hip"

AGR "Healthy Back" Award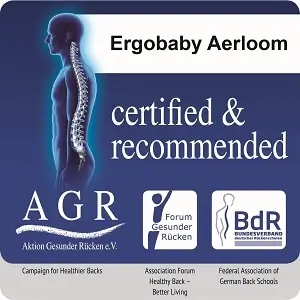 iF DESIGN AWARD 2021